Bonsai Workshops
Turn your Bonsai tree into Art
Learn to Style and wire at
Bring your own tree Workshop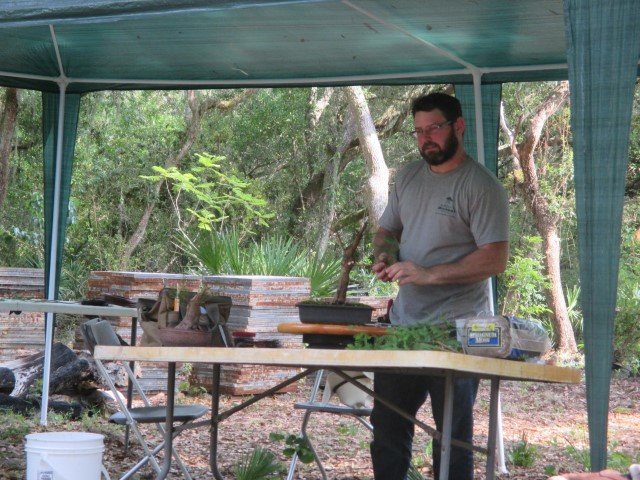 When: Every 4th Saturday of every month January - November
Location: 2745 Audubon Ave., Deland, FL 32720
If you have a new bonsai and you're not sure what to do next this is the perfect workshop for you. Bring your your bonsai to our next workshop. Jason Schley or our guest artist will give you a plan of attach to design your bonsai tree over the next 5 years. You will receive instructions on proper styling and wiring techniques. You'll also learn the benefits of a future plan both visually and horticulturally.
Click here to sign up today
!
Beginner Bonsai Class (All-Inclusive)
Everything you need to learn how to start take care of a bonsai
When: Third Saturday of Every Month
Location: 2745 Audubon Ave., Deland, FL 32720
Cost: $125.00 (Must pre-register here)
Class includes: Bonsai tree, tools, detailed instruction and lunch.
In this class you will receive a beginner set of tools, a bonsai tree, wire, an eighteen page syllabus, lunch, and a great time learning the who, what, when, where, and why of bonsai. You should be able to hit the ground running after this class and look at trees in a different light. I've been teaching this class since 04' and people always seem to have a great time. Fun for plant lovers, clubs, family, father/son, mother/daughter, brother/sister, the combinations are endless; or to have something to do on a Saturday. Sign up today as these are first come first served, we only accept ten students at a time, and it's a prepay/pre-schedule event.
---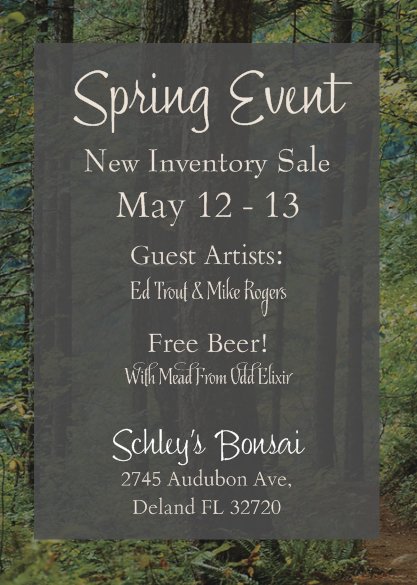 In the last year at the shop we have been hard at work making the nursery more beautiful and welcoming than ever. Come to our annual spring event and enjoy the new sights as well as free beer & mead from Odd Elixir, demos, and 20% off all stock, soil, tools, non-specimen trees, and bonsai pots.
On Friday, at 9:00AM and 12:00PM, guest artist Mike Rogers will being doing demonstrations. All demonstrations are free.
And on Saturday, from 10:00AM to 2:00PM, guest artist Ed Trout will be here to do a Shohin Willow Leaf Ficus workshop. There are ten spaces available for this workshop. The fee is $125, which includes your tree, bonsai pot, and wire. Click Here to reserve your seat!