Japanese Black Pine Seedlings in Four Inch Plastic Containers (Wired or Unwired)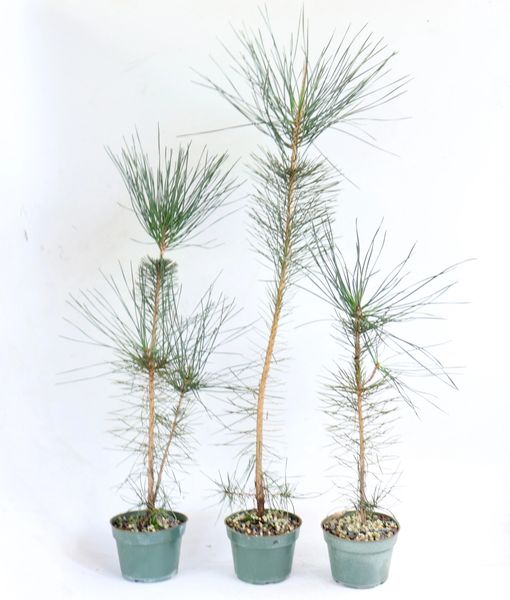 Japanese Black Pine Seedlings in Four Inch Plastic Containers (Wired or Unwired)
Have you been looking to start your next bonsai, but don't have time to start from seed? We have just the answer for you, in addition to saving you 2 years of grow time , here is your chance to own our home grown Japanese black pine seedlings! Planted in 2021, then put in four inch pots in bonsai soil (equal parts red lava, black lava, akadama, and hyuga pumice) in the spring of 2022, these are perfect to start their lives as your future bonsai project.
Japanese Black pine( Pinus thunbergii) is quintessentially known as the "King of Bonsai". It has been in bonsai culture for thousands of years, and is many artists favorite material to work on. They love full sun, plenty of water during active growth, well draining bonsai soil, and organic fertilization. There are special techniques to refine your tree over the years, which makes this tree one of the best to learn on. If you can grow Japanese Black Pine well for bonsai, you can grow any other tree we offer, because you know what it takes to make a bonsai thrive. This is your opportunity to own your very own black pine without breaking the bank!
Bulk pricing is available for those who wish to stock up! Great for newbies and advanced artists alike as these are extremely rewarding to grow and develop over the years. Almost all of these have buds a few inches above the base nice and low down on the trunk for either future shohin sized trees or to use as sacrificial to thicken the trunks. 
Also, as an option, we have a few hundred pines that were wired this spring and are now nicely set for future development. Each one was twisted its own way, so If you ordered 10 different trees,  you'd get 10 different trunk lines. 
Reviews