Neea Buxifolia Advanced Class with Abner Cruz (May 11th, 2024)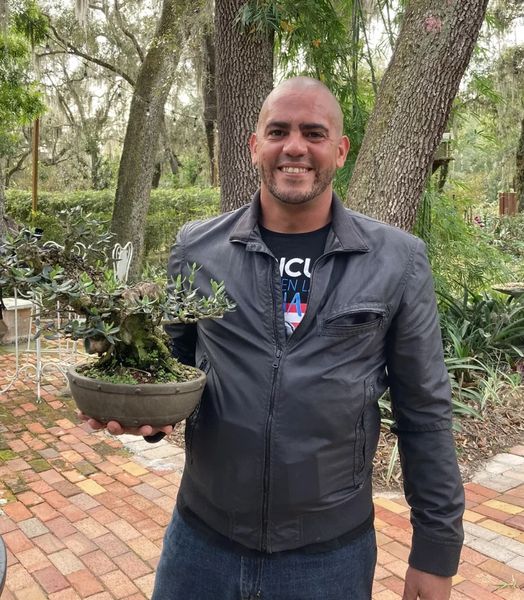 Neea Buxifolia Advanced Class with Abner Cruz (May 11th, 2024)
 In this class I'm happy to have Abner Cruz for our instructor! He has been designing and improving trees for a few years now. Seeing his trees you will be amazed how fast his bonsai develop! We're lucky to have him in our club as I'm sure anyone who takes his class will agree. 
The cost of this class does not include your tree which will be hand picked by you at the nursery (either on the day of the class or ahead of time). We have a LARGE selection of Neea available at the nursery.  These are collected pieces and are between 25.00 for 4" starter to 500.00+ for massive stock. Your $45 fee is securing your space and paying for the guest artists instruction. If you would like to bring your own material, just pay an additional 50.00 for use of facilities and lunch.
Location:

 Schley's Bonsai and Supplies, 2745 Audubon Ave, DeLand, FL 32720

Time and Date:

 May 11th from 10:00AM to 2:00PM
About Abner Cruz:
Abner grew up in. Puerto Rico. He said he was always very good in math and so was majoring in college in Accounting but was bored and not committed to his classes. Then, in 2003 he was introduced to Bonsai; he took a beginner's class with Pedro S. Morales. He switched his major to horticulture and graduated with honors.
Abner has many interesting stories to tell, as climbing steep rock ravines in Puerto Rico to collect tree specimens that were growing between the rocks and the pitfalls of such endeavors, as getting stung on the face by wasps.
Being married with three children, following graduation Abner became a landscaper in Puerto Rico. After a serious injury, he and his family relocated to Florida where he worked for a landscaping business until starting his own. During this time he did not have the time, with a growing business and family, or space, to continue with Bonsai. Then, in 2016, a client asked him to remove a tree from her yard, and the "bonsai bug" bit him! He has been involved with Bonsai since. Being a landscapers, he added, enables him to have access to good material in client's yards that they often want removed: a definite benefit!
He initially became a member of Central Florida Bonsai Club. He later joined the Forest Bonsai Society of Ocala. There he met Dave Van Buskirk and David Cutchin and started studying bonsai with them. He is currently Vice President of the Forest Bonsai Society of Ocala and a member of the Kawa Bonsai Society. Abner also served as one of David Cutchin's students in David Cutchin's presentation, The Florida Collective, at the 2022 BSF Convention.
Reviews