Trident Maple Cuttings in Four Inch Plastic Containers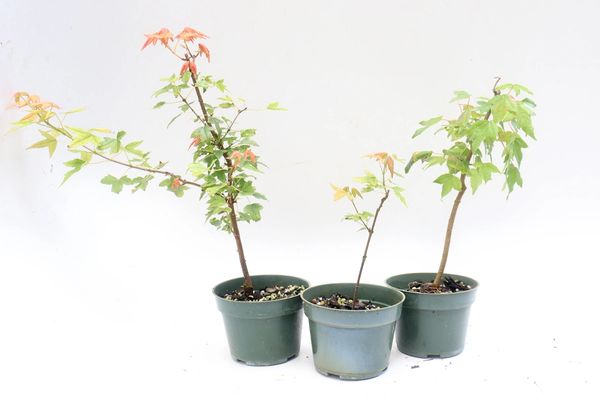 Trident Maple Cuttings in Four Inch Plastic Containers
Trident Maple (Acer buergerianum) Care:
They prefer full sunlight, they require regular watering with daily watering in hotter temperatures. The Trident Maple has beautiful fall colors. When transferring to its life as a bonsai, we recommend soil that drains well. At the nursery we use a mix of equal parts red lava, black lava, Hyuga Pumince, and Akadama.
  Trident Maple develop and ramify very well.  That is why this variety has been used for hundreds of years for bonsai. You can work Trident maple into a shohin sized bonsai, or you can put in an over sized pot and watch the trunk thicken consistently and  build and beautiful base in record time.  Or, you can put into a grow bed or in the ground and watch this tree grow to impressive proportions like not many other trees can. Trident Maple is really a staple for anyone trying to grow a vigorous, forgivable deciduous tree in many different sizes and styles. We suggest to everyone that they should have a few tridents in their collection.  
 Trident Maple also have a ton of videos, magazine articles, and books written about how to create, develop, and maintain fabulous Maple Bonsai in record time.  We suggest you give this species a try. You wont regret it.  
Reviews