WINTER FESTIVAL Wood Root Stand Carving Class with Sean Smith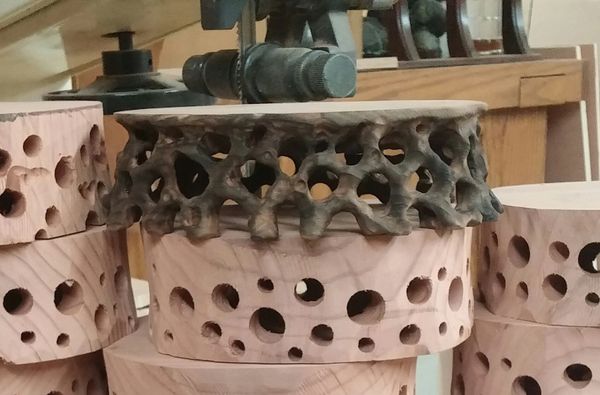 WINTER FESTIVAL Wood Root Stand Carving Class with Sean Smith
This class is being held during our 2019 Winter Festival alongside several other exciting classes and workshops. Minimal space is available for each so be sure to book your spot as soon as possible! For our Winter Festival, there are two separate opportunities (one for shorter root stands and one for tall) to learn wood carving from the great Sean Smith with one class being held on Friday and another on Saturday. This class usually lasts anywhere from two to three hours.
Location: 2745 Audubon Ave, DeLand, FL 32720
Each participant must come prepared with an electric dremel. Students will be provided with a blank of wood with holes pre-drilled (see image). No wood working experience is required.
Questions? Call us at (386) 675-3118 or email at schleybonsai@gmail.com
Be sure to select the correct date when purchasing your seat. Lunch is included in the cost of the class but will be served at 12:30 on both dates. If you have any allergies or other dietary restrictions let us know ahead of time.
Sean Smith is our special guest artist for 2019. Sean lives in the United States in Marysville, Pennsylvania, where he owns and operates Custom Oriental Wood-craft.  Sean took his 25 year passion for Bonsai and Suiseki along with his extensive background in carpentry and put all them together to start his own business in 1994. He currently creates Bonsai display tables, and carves Daiza for renowned Bonsai and Suiseki enthusiasts all over the world.  As a result of this work many awards have been bestowed upon him for his craftsmanship as well as his strict adherence to these ancient Japanese art forms.

Reviews